Vital is a new spectral warping wavetable synthesizer plug-in created by Matt Tytel, the creator of the free adventurous polyphonic synthesizer Helm.


Vital is packed with features that excels in performance in comparison to other well known wavetable synthesizers on the market. It puts itself in the top tier of virtual synthesizers with its groundbreaking features such as its spectral warping capabilities which allow you to manipulate waveforms harmonics to form unique and obscure sounds. The possibilities are endless as you can even import your own samples to form unique wavetables that can be further manipulated to your taste.


The visual feedback that is portrayed gives impeccable insight into how your sound is being manipulated. This feature gives you behind the scenes of animated controls, filter responses, waveforms, smooth LFOs, oscilloscopes, spectrograms and more. This feature is especially helpful for the not so tech savvy user whilst also being extremely beneficial for the more experienced user as it shows you a great representation of how your sound is being manipulated.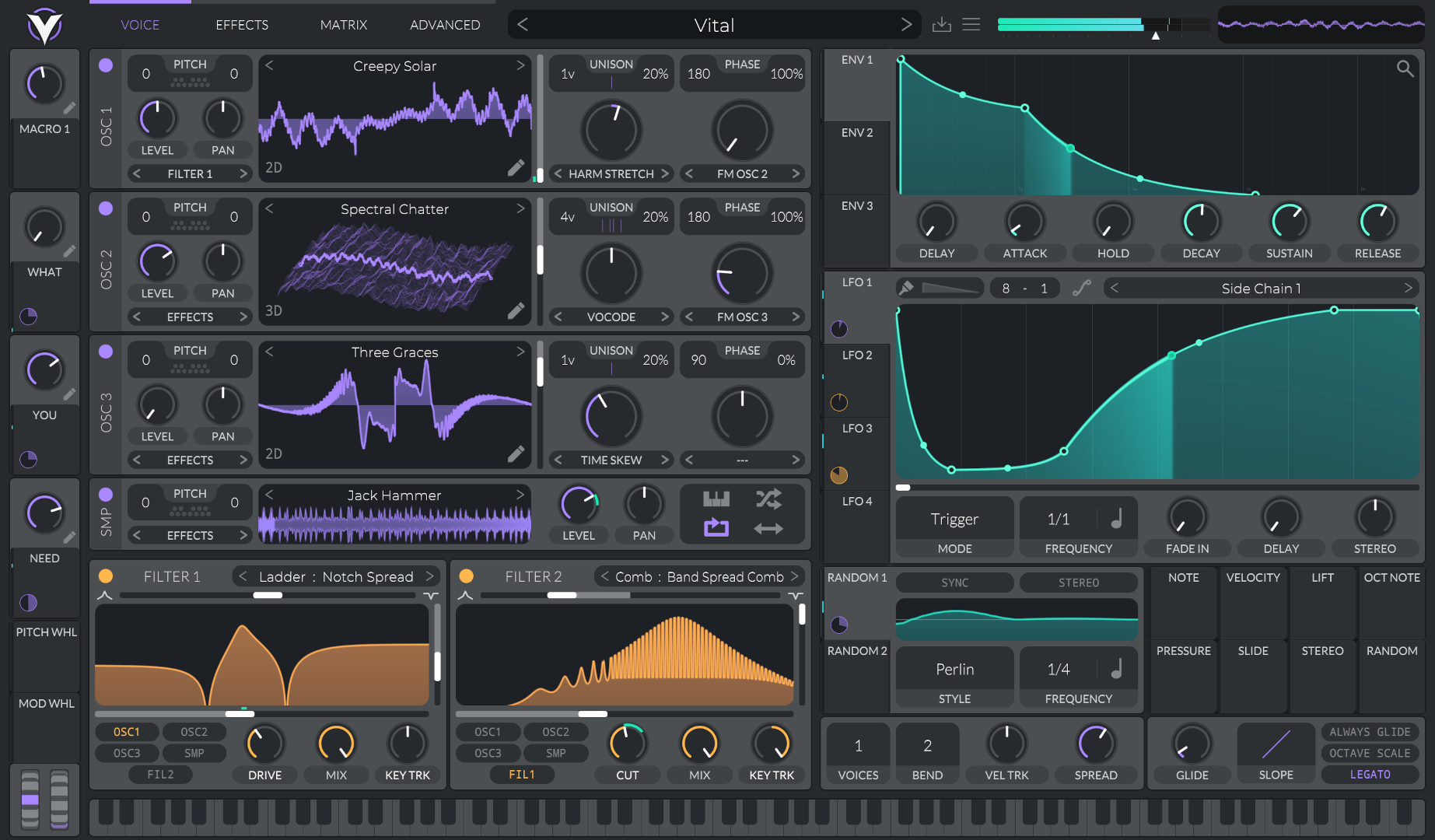 It doesn't stop there as its high quality oscillators are allegedly said to have an extremely low noise floor which creates almost no aliasing to give you a clean and precise sound whilst keeping your CPU low with its intelligent optimization.
Vital is free to try with its standard option which comes with 75 presets and 25 wavetables to choose from. If you want to try its more lucrative features it comes in 3 different price plans starting with its Plus option at $25 which includes 250 presets and 75 wavetables which allows you to dive deeper into sound design capabilities. The next step up is their Pro version at $80 which includes more than 400 presets and 150 wavetables but it doesn't stop there as it even gives you unlimited text-to-wavetable options whilst also opening you up to the world of exclusive Discord perks and prioritized support for the more avid user. The last option is its subscription service that comes in at $5 a month which introduces you to Tytel's product with subscription only packs, unlimited text-to-wavetable, exclusive Discord perks, prioritized support, first access to new features and first access to new plug-ins from Tytel.
This new synth is definitely not one to miss. It is available to download now at https://vital.audio/