Dutch producer Luuk Van Dijk talks to us about his sample pack, musical background, studio gear, his label and more.


You are lucky to have grown up in such a musical family with your mother being an opera singer and your father being a music teacher for over 25 years. Did these factors contribute to your personal style as it is today?


100%! Music was always around, it was never quiet at home. You'd hear my mom singing, my dad playing the saxophone, or sometimes even a duet, dad on the piano with mom on the vocals. Nowadays when I'm going to my parent's place I always find my mother practising playing the guitar, she's been doing that for years and every time I'm there, she makes me sit down and listen to her improvement, haha. Cool to see she's never too old to keep on educating yourself. My parents thought it was important that both my brother and me could play an instrument, so my mom taught me to play the piano. Gosh, how I hated that, haha. But so happy they kept on pushing me until I went to follow piano lessons elsewhere. The piano teacher taught me how to play jazz and the cool thing about jazz is that you can improvise, so you just play the basis of the track and let your inspiration on the loose. It was a lot more fun playing the piano like this, instead of reading from the sheets. That's how I started making my own compositions and eventually putting these compositions into Cubase together with my dad. That's basically how I started making music.


Seeing that you went to Herman Brood Academy to study music production. Do you feel as if it's necessary for someone to study music production in this day and age, Due to music production being so accessible nowadays?


When I started making music YouTube already had a lot of tutorials on music production but there are a lot more these days. There are even tons of videos on how to sound like specific artists! But I learned a lot of stuff at the Herman Brood Academie that I couldn't have learned online. Being in a class with 25 likeminded people every day and being forced to make music with other students from the school (vocalists, guitar players you name it) helped me a lot, being out of my comfort zone and learning different kind of stuff from other musicians. If there's one thing I learned from the most, it is from my classmates, seeing their workflow and using bits of that in your own way. If I can give one piece of advice: go into the studio with other producers, learn from each other and have fun!! Oh and if they tell you that something isn't cool but you think that it is cool? Listen to yourself ;-) Nothing is wrong or right in music, that's the fun part.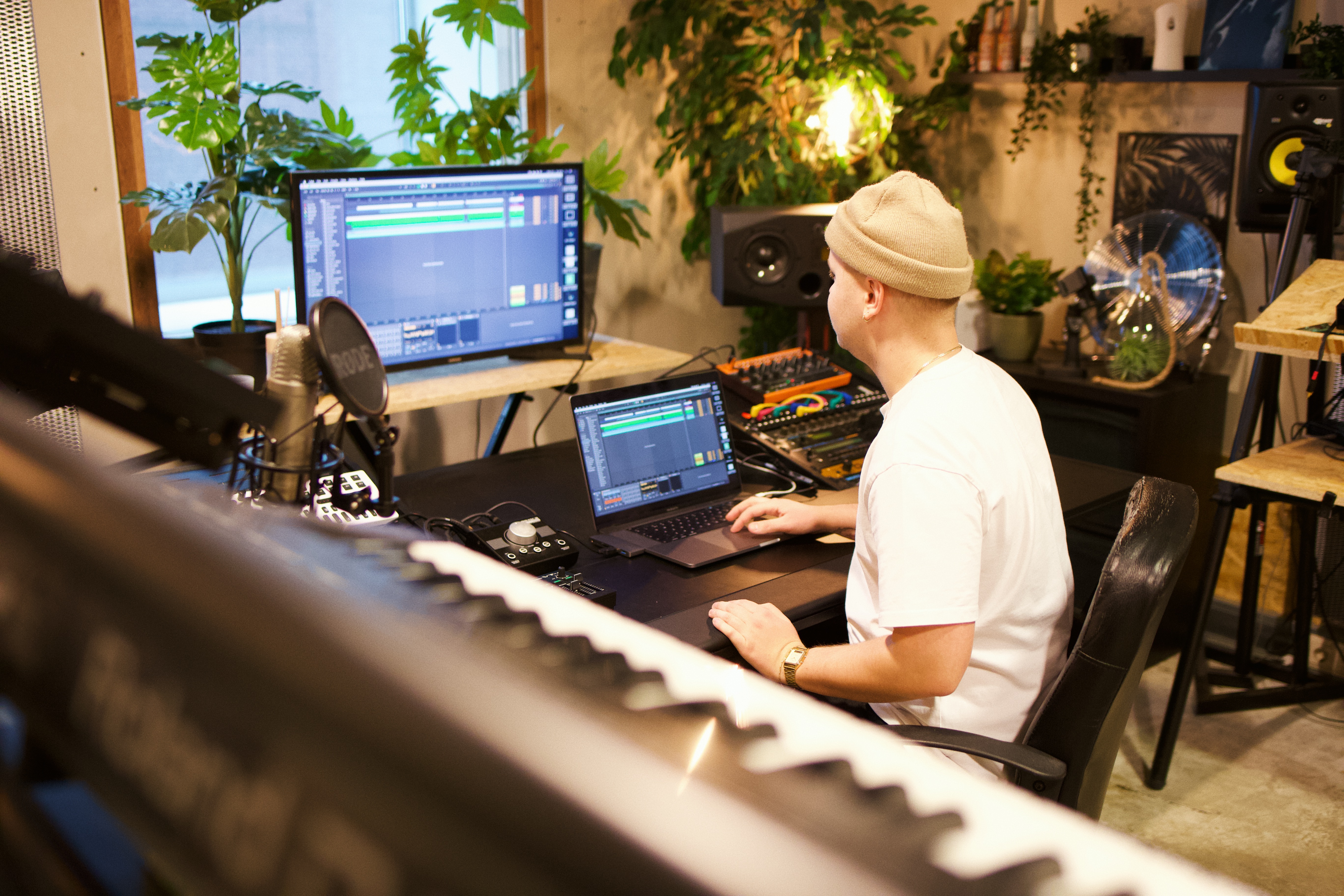 There are some truly exciting sounds in your sample pack, what was your process behind putting these sounds together?


I just love oldskool retro-sounding stuff and the one way to find that is to sample old music or buy vintage synths and samplers. I used my E-Mu Orbit and Korg M1 a lot for the sample pack and the cool thing about the M1 is that you can buy a lot of cool and weird expansion cards on sites like Reverb.com or eBay. These rare or even classic sounds stand out in your track. So my advice is to skip all the usual suspect plugins and dig deep into the older synths/plugins/sample packs.


From the looks of photos of your studio on Instagram, you have a pretty decent sized studio with a good selection of hardware to play with. Could you talk us through your studio and how you incorporated your gear into your sample pack?


I think with hardware it's very super personal what gear suits you the best. I bought so much gear that a lot of my friends also used (like some Elektron devices), but I'm a very "lazy" producer and I just want to get going fast. I'm also more of a sample guy so I have a lot of synths in the studio that are easy to work with and just have some awesome presets. Like the M1, Roland JV1080, E-Mu Orbit and the Waldorf Blofeld. I hooked all my gear up with midi cables to my Motu midi interface & sound interface and made a really nice template so I can play all the synths without unplugging anything. I don't like to spend too much time on crafting specific sounds, but want to get inspired on jumping from preset to preset. But that being said, I actually just spent over 1k on my first modular Eurorack, realizing that it's probably nothing for me, haha! But we'll see!


I see that you have a Behringer Crave on your desk in your studio, what are your views on Behringer making these low budget ranged synths?


I don't really have an opinion on that, to be honest. I actually bought that thing because it was that cheap. I used it in one song and sold it afterwards, haha. I think it's brilliant that with these prices everybody can buy synths, it makes it all a lot more accessible for everybody. But then again, I just have a thing for oldskool and vintage stuff so you'd usually find me digging on Reverb.com or Facebook gear trade groups instead of buying the new gear.



You've had releases on some proficient & well-known labels such as Hot Creation and Solid Grooves, How does it feel to have releases on these labels at such a young age?


It's crazy, it really is. When I started making music at the age of 15 it was a dream to release on these kinds of labels. But instead of sending everything to labels I started out putting everything as free downloads on Soundcloud and spend more time just making music. I didn't really feel like hearing "No, but thanks for sending" all the time. But because I had all my music up for free, I already gained a bit of following on Soundcloud, which in the end might've helped before sending out demos.


My first releases were with Hector Couto his label Roush and Shadow Child's Food Music and they really helped me getting my first international plays. I'm still super grateful that they put their belief in me that early.


It was a dream come true for me to release on Hot Creations and after sending 100 tracks to 5 different mails, giving Jamie 5 USB sticks, going to every party he played in Holland and making sure I spoke to him. And at one point it actually worked! He played a track of mine at Time Warp. I was so happy when I saw that and got an email saying he wanted to sign it. Never give up, if you want something, never let go. By the way, there might be something new in the pipeline ;-)


You have a label called Dark Side of The Sun, Could you tell us as to how this came about and what the vision of the label is?


I wanted to have more freedom in releasing whatever and whenever I wanted. Releasing on labels is a great way to reach new fans but I thought it was time also to maintain my fans and release tracks I couldn't find a home for but believed they could work. Most of the labels only want tracks that stand out and will sell the best, which is super reasonable of course. But I also wanna release tracks that might be a bit more under the radar. It also really helped me in the studio, where I can make whatever I feel like and don't have to be uncertain if labels will like it. The label is doing so great and I couldn't have hoped it to be any better than this. It was never the intention to release stuff other than my own, but I didn't expect people actually sending demo's and wanting to release their tracks on my label. There's not really a big vision to it, I just want to release music I like :)


With everything being so bleak right now, How have you been feeling about everything regarding the industry and the lockdown we have all been wrapped up in?


The creative industry took some serious damage, but everyone in this industry shares the same characteristic: we never give up. (Almost) everyone in this industry is in it for the passion with full heart and soul. Yes, we've been tested this past year and have learned some lessons, nothing is promised and having a career in this industry is vulnerable. But If there's one thing I found out, is that I'm gonna make and play music for the rest of my life.