With big releases such as Box Clever and Callin' Huxley needs no introduction as his music has been so prevalent in the UK house, garage, and techno scene for years. We had a quick catch up with him about his new sample pack, influences from his youth and music production. 

Your music has been played out for years and has been very influential to the house scene. How do you feel your style has formed over the years, and what influenced you towards the sound you have today? 


This is hard for me to answer to be honest. I think it's all happened quite naturally throughout time. There's never been a conscience decision to cater or drive my music in a certain way. As with all people my tastes have changed frequently over the past 10/15 years and each time I think something from that has permeated a part of how I write music. There's obviously influences from House and UKG, but also a lot of techno, soul, electronica and pop. I try to never listen to the same thing all the time, which is why I guess my sound is ever changing and each song is a reflection of what I wanted to make at the time.

It's been stated before that your brother put you on the road of music production when you were younger, what kind of things did your brother introduce you to have your signature sound that you have today?

Not much when it comes to my sound, really, but he got me onto production through me watching him write music when we were younger. We briefly crossed paths, music taste wise, when we were in our teenage years, but we both like very different things. Without his early influence I doubt I would have started that early or even at all. So he might not have contributed much to the sound, but he did everything to start me on the journey to get here.

UK garage seems to play a huge influence on your sound with your swung percussion, airy atmospheres and deep basses that keep the dance floor grooving. How did you try to portray these sounds in your sample pack?

UKG is a still a love of mine, I have to admit it's a sound that never gets boring in my opinion. There's no swing like it. I think in this particular pack I've tried to recreate the swing I use in a lot of my tracks and also over exaggerate it in places to give people that authentic garage/deep house movement and groove. I've also tried to fuse my house and garage sensibilities when it comes to the basses and the keys. I feel like they could happily sit over either styles and fit into someone's production perfectly.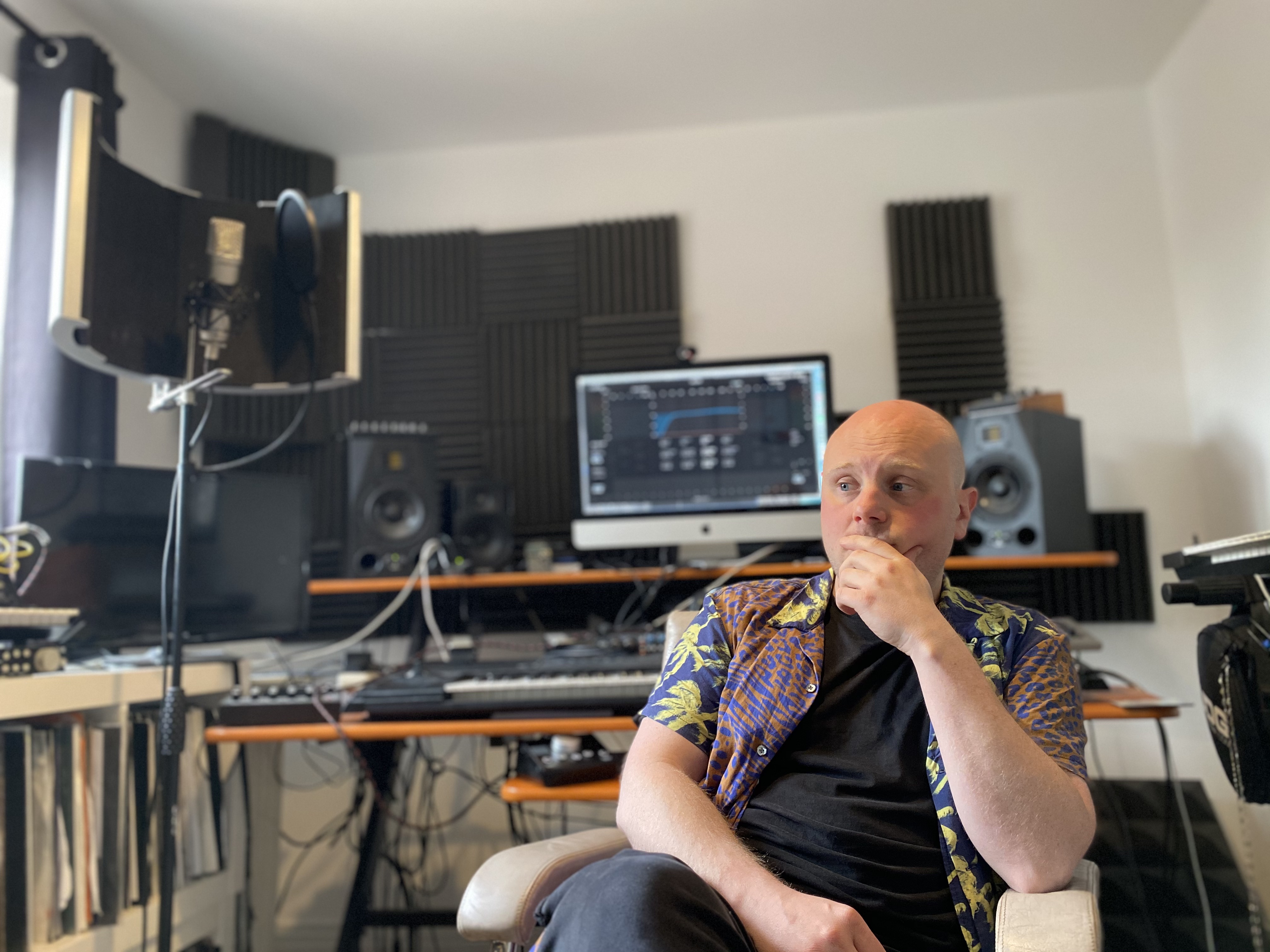 The sample pack has great sounds that can be used in any genre. What was the process behind creating this pack?

A bit like I said before, I like all styles and I like to make all styles. There was no deliberate decisions to do the pack like this, it's just what came out when I put it together. The fact that these sounds could be used by producers from House to pop to Gabba makes me happy though, as I love hearing how different producers can mould samples into their own signature sound.

From the looks of your studio, you have a great collection of hardware gear. How much did you try to incorporate these devices in your sample pack?

I'd say it was about 60/40 soft synth to hardware. I go through stages of how I produce and I'm not currently using my hardware much, but I wanted to get some into this pack. I'm really love manipulating soft synths and making them either sound weathered/analog or trying to create something I have heard before. Hardware is great fun when it's all working well, but to have some samples of gear that is already ready to use is a must. That's how I tend to use my hardware at the moment. Sample it a bunch and then use those samples in my own tracks. What's in this pack is some of those samples.

Do you feel that hardware is a must in production these days or do you think it's a preference thing with the sheer amount of great quality soft-synths and VST's

Absolutely not. It's a 100% a preference, and for a lot of people they just have it to make their studio look better and never or don't even know how to fucking use the stuff they buy. Soft synths and plugs are so good these days you really don't need to use it. However it can be super fun to actually play with something real rather than just moving your mouse. Sometimes that's how come up with some of the best shit, but really it's just not needed today. I feel like which ever you pick to use, the less you use and the more you know the equipment, software or hardware, the better. It's better to know one, two, three things inside out.

The music part of your sample pack is great especially for new producers that don't have a lot of knowledge about music theory and sound design. Did you try to make these in mind so that producers (old or new) can have your signature sound in their music?

I don't know If I thought about it that hard, I just thought these melodies could inspire some great music. I love writing bits of music or loops like that, and then frequently leave them laying around gathering dust, so it's good for them to be out there to hopefully help someone else use them and create their own thing with them.

You've had some big releases over the years that definitely made an impact on the scene. How much did some of these releases change your career?

They completely changed it, I went from someone who was about to give it all up and Get a "real job" to someone who could pursue my dream and turn what I do into a living. Without them I would never have seen the world the way I have, met the people I have or have anything resembling the life I have now. 

The past year has been extremely detrimental to the scene. How have you kept motivated in regard to not getting bookings and putting new tracks out ?

I used this time as a positive and spent a lot of locked away in the studio. I put a couple of cool tracks out on labels I love - toolroom / shall not fade, but what it actually made me realise is what I really want from my career. So, I've been working on a much bigger project and new sound. Working with loads of cool singers/writers and signed to ULTRA for five singles. I haven't released anything for 7months, which is the longest time ever for me, but I'm quietly confident that this next stage of my career will be the best and, even if no one likes it, the most fulfilling. I've also started a new radio show on Trickstar radio every other Wednesday. I've had some, and got more lined up, amazing guests. So tune into that too.

Is there anything we should be looking out for in the future? 

My singles on Ultra. Also, my other project with my buddy, James, called PISCEAN.